News
Toy Industry Update - New Zealand 2023
Jan 11, 2023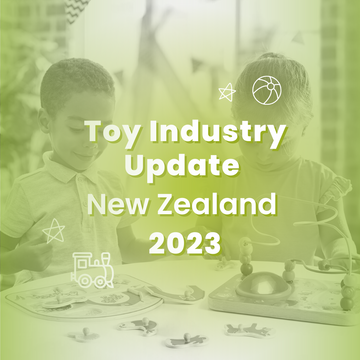 Happy New Year everyone. I hope you all have had a wonderful break and are fully recharged for whatever 2023 brings.
With our industry so focused on Christmas sales, one is never sure how the year will turn out until it's over. So January is the time for reflection and after 30 years of business, I always find that Christmas sales never disappoint. It is now time for us to build up our range with new and exciting products again. We introduce around 30% of new products each year. Finally, we are back visiting Trade Fairs, something we have missed over the last 3 years. There is nothing better than seeing ranges on exhibitors' stands so that you get a real understanding of what the brand is about.
At the beginning of COVID, it would have been easy to believe there would be a demise in our industry, but the opposite happened, as consumers changed their buying habits (hopefully for good) and it produced 2 record years for the toy industry. We all benefited from it and it allowed our suppliers to continue to develop and expand their ranges.
But one thing I have learned in over 30 years in the Toy industry, is the great times never last and 2022 was the biggest example of this.
We were hit with a Perfect Storm, never seen before. Skyrocketing freight costs, shipping delays, the invasion of Ukraine by Russia, the spiraling cost of living, interest rate hikes, and the reduction of the value of currency put a huge hit on our industry as our customers purchasing power diminished. In addition, as lockdowns became a thing of the past and consumers are starting to get back to some sort of normality and spending on travel and entertainment, the demand for toys has waned.
As we look to what 2023 holds, I feel that as freight costs are now back to a reasonable level and our currency has stabilised there will be less disruption in 2023. This should in turn allow us to rebuild throughout the year a work towards a rebound in the 4th Quarter of 2023, as we always do prior to each Christmas.
So our journey starts again and we are excited to be off to The Nurnberg Toy Fair to see the latest offerings. So watch this space for further news.