News
Australian Toy Fair 2023
Mar 24, 2023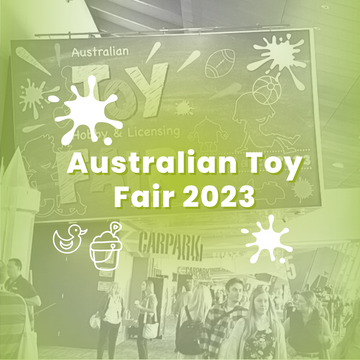 Being able to return to the Australian Toy Fair after a two-year break was amazing. It is always such a fun filled event. Plus being able to connect with our Australian partners and meet up with retailers while interacting with new product is refreshing after so many video calls over the past couple of years.
The fair was a smaller event to previous years, but still great to see new product from key brands as well as innovating products from new suppliers. The ATA knows how to put together an amazing event, giving plenty of opportunities to meet up and connected with people. It is an event that you can't walk down an aisle without seeing someone you know, especially after being in the industry as long as I have.
This year I had the pleasure of being able to bring along our Key Accounts Manager, Anouska.  As this was her first exposure to a Toy Fair it was great seeing it from her point of view - "Attending the Australian Toy Fair for the first time at the start of this month gave me a great introduction to the wider industry and how it operates on a much larger scale than here in New Zealand. Having spent time participating in tradeshows and exhibitions in former working lives, and admittedly being jaded by the "same same" offerings, it was a pleasure to attend a fresh, fun and energetic event – with a palpable feeling of enthusiasm from the exhibitors keen to be there, after having had Covid cancellations over the last few years. It was the best opportunity to see both large and small operators alike with their ranges and was a well-run and professional event. We were in the fortunate position of being able to meet with existing supply partners, talk to potential new suppliers and their product ranges, and to meet up with our customers, of which there were many that had come over from New Zealand. Thank you to our supply partner, the UGames Australia team, for accommodating us on their stand, and congratulations on the win for Game of the Year with "Raccoon Tycoon" – we look forward to replicating your success in our market with this quirky and cool strategic game" 
We have amazing partners and brands from Australia that we represent in New Zealand, and we can't wait for you all to see the new product from, UGames, Pink Poppy, Hinkler and even some new ones, so watch this space!