News
A Visit to Hape: An Insight into Excellence
Oct 24, 2023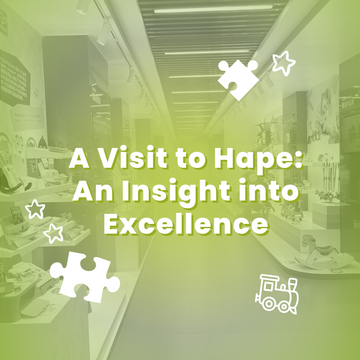 Recently, I had the distinct honor of visiting our international partner, Hape Toys, at their impressive headquarters in Beilun, Ningbo. The first thing that immediately captivated me was the sheer beauty of Beilun, the city chosen as the backdrop for Hape's offices. This city boasts tree-lined streets, serene park spaces scattered throughout, and tranquil canals with walkways, all beckoning to enthusiasts of outdoor activities. These scenic elements undeniably contributed to the overall enjoyment of our visit.
Hape's strategic choice of location, adjacent to the water, plays a pivotal role in facilitating the global distribution of their toys. The sprawling complex encompasses four distinct factories, a testament to the colossal manufacturing task they undertake on a daily basis.
During our factory tour, it became abundantly clear that meticulous attention to detail lies at the heart of everything Hape does. Whether it's the precise temperature control during the heating process, ensuring the efficient drying of toys for extended product longevity, the scrupulous removal of any sharp edges or corners to safeguard children during play, or the extra care taken with wooden products during humid seasons to prevent mould, it's evident that every conceivable aspect has been meticulously considered and addressed.
In certain instances, this dedication has necessitated the development of custom machinery to solve complex challenges and achieve the remarkable results that define Hape Toys.
"To make toys is not an easy job. So much detail," expressed Caroline Zheng, Regional Sales Manager at Hape International.
The rigorous safety testing regimen instilled a profound sense of reassurance, particularly given that these products are designed for the most precious of consumers – our little children. Hape's global distribution necessitates meeting diverse safety standards, which vary from country to country, and are often inconsistent. For instance, New Zealand might demand the highest standard in one category, while the USA might set a higher benchmark in another. No single nation appears to hold the highest requirements across all categories, creating a complex challenge.
So, what is the solution? To craft the finest products possible, Hape toys adhere to the highest standards in every category, sometimes even going the extra mile. As a parent, this level of meticulous care and attention to detail provides profound peace of mind, making it easy to wholeheartedly recommend these exceptional toys to other parents.
One of my personal favourite aspects of Hape is the thoughtful approach applied to each and every toy. Each item produced embodies learning and educational qualities, echoing the mantra of "Love, Play, Learn." This philosophy is showcased in the images adorning the walls of their offices and factory. The images on Hape toys convey the vital importance of early-age learning and its profound impact on children's behavior, learning abilities, mental, emotional, and physical health, as well as their capacity to navigate conflicts and emerge resilient throughout their lives. It's truly astonishing what quality toys can achieve.
Yet, the images that left an indelible impression were the ones gracing the entrance to the main office building, articulating Hape's vision for all children worldwide:
No Poverty
Zero Hunger
Good Health and Well-Being
Quality Education
Gender Equality
Clean Water and Sanitation
Affordable and Clean Energy
Decent Work and Economic Growth
It was a privilege to witness the substantial efforts Hape invests in charitable initiatives to support this noble vision. Equally heartening was observing the genuine care afforded to every member of the Hape team in their work environment, underscoring that these core principles genuinely permeate the company's ethos. It's no wonder that Hape's toys are cherished by families in New Zealand, given the heartfelt dedication that permeates the company behind them.