News
New Zealand Toy Fair 2023
Apr 18, 2023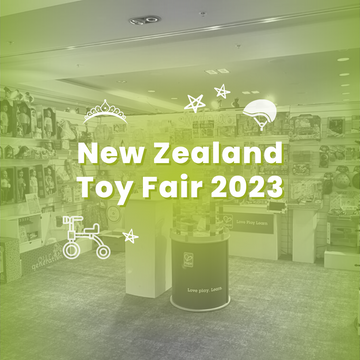 This year, I had the privilege of attending the 2023 New Zealand Toy Fair as part of the Sweetpea team. After a forced covid hiatus, this annual event was met with a reduced amount of retailers and distributors, however the enthusiasm of those who showcased, far outweighed the smaller numbers. 
As soon as I arrived, I could feel the shared passion for all things toys among the attendees, who were clearly committed to enriching children's lives through play. This was my first time attending a Toy Fair, and so it was an exciting and new environment to explore.
One of the most notable highlights of the fair was the opportunity to engage face-to-face with customers, which provided valuable insights into their preferences and needs. We were thrilled to showcase new toys in our brand's ever-expanding ranges and receive direct feedback on these products. It was gratifying to witness the enthusiasm of attendees exploring the vast range of toys on offer.
The event was expertly organized and executed by the New Zealand Toy Association, providing ample opportunities to meet with fellow toy distributors and gain a better understanding of their product offerings. The hard work put in by all involved contributed significantly to the overall success of the event.
In summary, my experience at the New Zealand Toy Fair was extremely positive. Being given the opportunity to attend and support my team was a fantastic experience, and I am already looking forward to attending again in 2024.