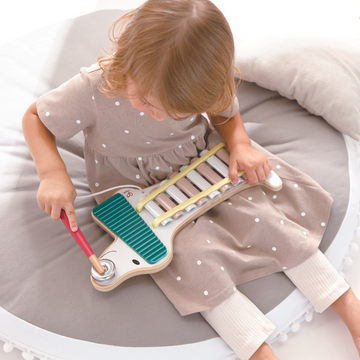 Sweetpea became the New Zealand distributor for Hape ('hay-pay") in 2019.
Having the Hape Brand as part of the Sweetpea range is important to us, as Hape Toys are market leaders in their design and manufacturing of high-quality baby and children's wooden toys made from sustainable materials. … Each product is developed to enhance a child's social, sensory, physical, and emotional skills.
As the world's largest producer of wooden toys, Hape is clearly dependent on the use of natural materials. A full line of bamboo toys takes advantage of the special properties of this highly renewable material. Plastic parts are ensured durable enough to last for generations in order to encourage toys to be passed down rather than tossed out.
Hape – LOVE, PLAY, LEARN
Love, is the mutual love between a child and a parent
Play, is the experience of success or failure
Learn, is the natural outcome from love and play.
HAPE ALWAYS INSISTS ON BEING THE BEST PARTNER FOR PARENTS AND CHILDREN!